Sako 90 Quest Carbon 6.5 Creedmoor
€4,550.00
Sako 90 Quest Carbon 6.5 Creedmoor
Description
Sako 90 Quest Carbon 6.5 Creedmoor
The Carbon Wolf was a ground-breaking hunting stock for a production rifle, and the Sako 90 Quest continues the story. The multi-adjustable carbon fibre stock, for superb shooting ergonomics, and RTM technology, for dimensionally accurate and effectively recoil-absorbing stock construction, together ensure the perfect shot wherever you roam. The new coating on the stock offers perfect grip in any condition and the Cerakoted stainless steel barreled action ensures your rifle is ready for action even after days of hiking. The calibers options for the Sako 90 Quest are: 22-250 Rem, 243 Win, 6.5 Creedmoor, 308 Win, 6.5×55 SE, 270 Win, 30-06 Sprng., 8×57 IS, 9.3×62, 7 mm Rem Mag, 300 Win Mag, 375 H&H Mag.
KEY BENEFITS
Advanced ergonomics to meet your need for versatility as a hunter

The legendary hunting experience with ultimate accuracy, reliability and the smoothest operation on the market

Balance & lightness with the SAKO carbon stock
KEY FEATURES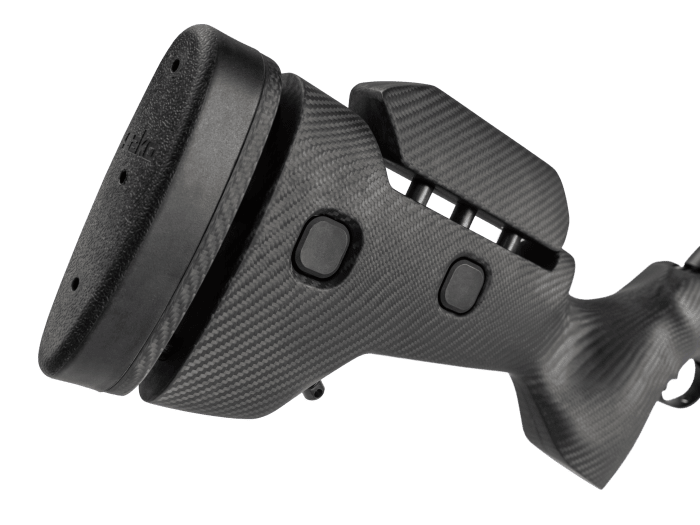 The adjustability of the length-of-pull and cheek piece allow the stock to adapt to different anatomies and situations. Extremely robust, solid and light 3D-meshed carbon stock with low noise signature – to manage recoil forces and enhance the rifle's repeatable accuracy.
01
MULTI-ADJUSTABLE SAKO CARBON FIBRE STOCK FOR ULTIMATE ERGONOMICS
02
THE SAKO COLD HAMMER FORGED BARREL
03
THE LEGENDARY SAKO BOLT ACTION EXPERIENCE WITH A PICATINNY
04
THE MULTI-ADJUSTABLE SAKO 90 TRIGGER MECHANISM
05
DURABILITY THROUGH MATERIAL AND COATING SOLUTIONS
06
TEXTURIZED SURFACE GUARANTEES A PERFECT GRIP IN ALL CONDITIONS
07
DUAL SLING STUDS FOR FLEXIBLE BIPOD AND SLING ATTACHMENT